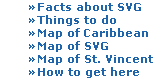 Local Tourist Areas/Sites:

Indian Bay
Information: Make the Villa Lodge Hotel your home base from where to explore the island. Only 2 minutes walk away from a white sandy beach overlooking Young Island. We will be delighted to help you with organizing your excursions.

La Soufriere
Information: One of the most studied volcanos in the world, which rises to a peak of 4048 ft./1239 mts above sea level. A foot trail leads through a canopy of bamboo ridges, lowland forest with patches of cultivation and then into tropical forest with a profusion of tree ferns, tall trees festooned with bromeliads, lianas and moist shade sappled with sunlight.

Owia Salt Pond
Information: The Atlantic Ocean cascades over lava peaks and ridges into the large bathing pool with a breathtaking view of the mountains in the background. Ideal for swimming ans snorkeling.

Various falls
Information: St. Vincent has a lot of falls. The most spectacular falls are:
Falls of Baleine, a 63ft/20 mts fall which can only be reached by sea.
Dark View Falls and Trinity Falls. The first can be reached easily and for the latter a one hour hike must be undertaken.

Vermont Nature Trail
Information: The Vermont Nature Trail offers an opportunity to explore the St. Vincent Parrot Reserve conserving 10,870 acres of forest, set aside in 1987 to help preserve the endemic St. Vincent Parrot (Amazona Guildingii) and its rain forest habitat.



Things To Do Navigation:

» Things To Do Main Page



» Tour Operators



» Restaurants



» Island Events



» Tourist Areas/Sights

Add An Event:


Do you know of an exciting event that's happening in St. Vincent and isn't posted here yet? If so, click on the link below and you'll be able to add the event to our event listings.


»
Add an Island Event!
Add Your Company:


Are you a restaurant, tour operator or business you believe that will add to a visitor's experience in St. Vincent? Click on the link below and you'll be able to add your company to our directory listing.


»
Add Your Company