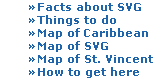 The Beautiful Islands of St. Vincent & The Grenadines:

»
The main island, St. Vincent, is a lush volcanic island, just 18 miles north to south and 11 miles wide. Its Windward coast is lined with cliffs and rocky shores pounded by the Atlantic Ocean. The Leeward coast has spectacular slopes and valleys running down to beaches lapped by the tranquil Caribbean Sea. St. Vincent's capital city, Kingstown, combines reminders of its colonial past with the bright and bustling life of a modern market town.

The Grenadines are a spectacle of smaller islands that rest just south of St. Vincent. The islands include:
»
Bequia
An island oriented to the sea, retaining age-old traditions of boat building, whaling and fishing. Gold sand beaches that are ideal for sailing, scuba diving and snorkeling encircle Bequia.
»
Canouan
Canouan claims some of the best beaches in the entire Caribbean - long ribbons of powder-white sands, wide shallows and coral.
»
Mayreau
One of the smaller Grenadines and privately owned with few residents, it can be reached by boat from Union Island.
»
Mustique
A gem of an island with a landscape as genteel as its lifestyle - green hills roll into soft white sand beaches and turquoise waters. This Grenadine isle has long attracted the elite of the world, including British royalty.
»
Palm Island
Palm Island has a very casual ambiance - 24 beachfront stone cottages, open-air dining and all water sports off wide, white shores.
»
Petit St Vincent
The southernmost of St Vincent's Grenadines, PSV, as the locals call it, is set on rolling hills. White beaches ring the entire island and the foliage is luxuriant.
»
Tobago Cays
Located South of Canouan, the Cays are guarded by some of the most spectacular coral reefs in the world. You can sail, snorkel and beachcomb in complete seclusion in this rare tropical paradise that can be reached only by yacht. A national marine park is being developed here.
»
Union Island
A mountainous island fringed by superb beaches, Union Island is the stopping-off point for yachtsmen and visitors heading to some of the smaller Grenadines. The island features a simple, relaxed lifestyle.

Our Location:


»
Learn about St. Vincent
St. Vincent Island Maps:


Welcome to the Villa Lodge map listing. If you're new to the area and you'd like to check out what's close by or on the island then download one of these maps in PDF format.


»
Caribbean Island Map

»
The Airport To Villa Lodge

»
St. Vincent And Grenadines

»
Indian Bay Area

»
General Villa Lodge Area