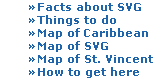 Local Restaurants:


Patio-Bar Restaurant
Email: frontoffice@villalodge.com
Phone: 784 458 4641
Fax: 784 457 4468
Information: Eat At Our Restaurant:

While staying at the Villa Lodge enjoy a beautiful meal at our restaurant. There are so many items to choose from and the menus are always changing, so you'll always have fresh choices.

For more information: see 'Our Hotel' section.



Things To Do Navigation:

» Things To Do Main Page



» Tour Operators



» Restaurants



» Island Events



» Tourist Areas/Sights

Add An Event:


Do you know of an exciting event that's happening in St. Vincent and isn't posted here yet? If so, click on the link below and you'll be able to add the event to our event listings.


»
Add an Island Event!
Add Your Company:


Are you a restaurant, tour operator or business you believe that will add to a visitor's experience in St. Vincent? Click on the link below and you'll be able to add your company to our directory listing.


»
Add Your Company