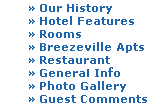 Villa Lodge Recipe Book:



Calalloo Soup
Date Posted: March 4th, 2003

Ingredients:


2 bundles calalloo
1 small onion
1 small sweet pepper
6 cups chicken stock
2 leaves thyme
1 clove garlic (large)
2 tsp vegetable oil

Directions:
Clean and cut calalloo in cubes or chunks. In large saucepan heat oil, gradually put onions, sweet pepper, thyme and garlic in pan. Cook until tender, then add calalloo and 3 cups chicken stock, simmer for 10 minutes. Remove from heat and blend.

Put blended mixture in saucepan, add remaining chicken stock, salt and pepper to taste and cook for 5 minutes.

Serves 8


Restaurant Navigation:

» About Our Restaurant



» Meet Our Chefs



» Our Menus


I'm sorry, but there are no weekly menues lited at this time. Please feel free to phone us if you have any questions about our restaurant or menus.

» Recipes

Recipe Archive:


• Calalloo Soup
• Sauteed Chicken Breast
• Sweet Potato Pudding