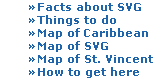 Facts About SVG:




St. Vincent & The Grenadines

Geographic coordinates:
13 15 N, 61 12 W

St. Vincent is a part of a small island chain in the eastern quadrant of the Caribbean. It's located due east of the Barbados.

» Click here for a detailed map

Natural hazards:
Hurricanes, Soufriere volcano on the island of Saint Vincent is a constant threat

Environment current issues:
Pollution of coastal waters and shorelines from discharges by pleasure yachts and other effluents; in some areas pollution is severe enough to make swimming prohibitive

Environment international agreements:
Biodiversity, Climate Change, Desertification, Endangered Species, Hazardous Wastes, Law of the Sea, Ozone Layer Protection, Ship Pollution, Whaling signed, but not ratified: Climate Change-Kyoto Protocol

Geography note: the administration of the islands of the Grenadines group is divided between Saint Vincent and the Grenadines and Grenada


Photos Of St. Vincent:



For More Information On St Vincent:

1. St Vincent & The Grenadines - Jewels of the Caribbean
http://www.svgtourism.com/


Official site of the Department of Tourism. Includes information on where to stay, activities, events and travel tips.

2. St Vincent & The Grenadines in Pictures
http://www.becouya.com



Photographs from Bequia, Mustique, St. Vincent and the Lower Grenadines.

3. St. Vincent & The Grenadines Information
http://www.scubamom.com/grenadines



Travel information, resort reports, and maps presented.

4. St.Vincent & The Grenadines Merchandise
http://cellarstone.com



Purchase St. Vincent mugs, shirts and more.

Things To Do:

» Facts About SVG



» Places of Interest



» Kingstown



» "The Strip"



» The Grenadines
St. Vincent Quick Facts:


Location:
Caribbean, islands in the Caribbean Sea, north of Trinidad and Tobago



Area:
total: 340 sq km
land: 340 sq km
water: 0 sq km



Land boundaries: 0 km



Coastline: 84 km



Maritime claims:
contiguous zone: 24 nm
continental shelf: 200 nm
exclusive economic zone: 200 nm
territorial sea: 12 nm



Climate:
tropical; little seasonal temperature variation; rainy season (May to November)



Terrain:
volcanic, mountainous



Elevation extremes:
lowest point: Caribbean Sea 0 m
highest point: Soufriere 1,234 m



Natural resources: NEGL



Land use:
arable land: 10%
permanent crops: 18%
permanent pastures: 5%
forests and woodland: 36%
other: 31% (1993 est.)



Irrigated land: 10 sq km (1993 est.)